Isothermal vans - from the manufacturer
Manufacturer of insulated vans, the company "Yugpromtehmontazh" offers individual manufacturing manufactured goods vans for the conveyance of bread, bakery and other food products.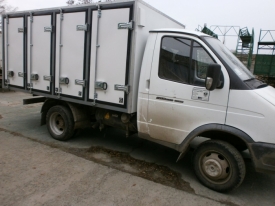 If you want to buy isothermal van the Gazelle and to pay only the functional features you need - company "Yugpromtehmontazh" guarantees qualitative execution of the order within the specified period.
Manufacture of insulated vans made by us to order, taking into account the personal wishes of the customer to the dimensions and design features of a specific instance.
Interested in "Gazelle bread van"? Price negotiable and dependent on the particular instance. Contact contact details with your requirements and our experts will calculate the cost.
In our catalogue you can make sure that manufactured goods vans manufactured by our company through insulation body keep a high product quality of transported food.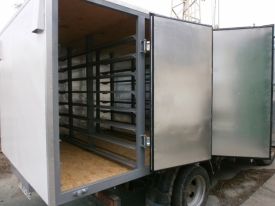 Due to the metal-polymer components and frame of solid steel used in the construction of the isothermal van - no need for painting. And in order that the housing Department van to transport bread and other food was not susceptible to rust and corrosion - are made of materials resistant to them: food galvanized steel, alupram and other combinations of materials with a composite structure.
Hesitate to buy isothermal van the Gazelle, the customer is usually interested in insulation in manufactured goods vans manufactured by our experts, are used for thermal insulation materials such as Isover, or foam. They fill the spaces between the walls of plating.
We offer to purchase a van for manufactured goods, the characteristics of which are made to order: this allows you to get exactly what you need for you personally. Depending on conditions on the ground, for our clients, we manufacture insulated meat vans, with a certain number of trays with special dimensions between sections. The dimensions of the bread van, the price is depend on car chassis, on which you plan to install.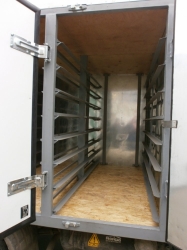 Door in a bread van usually located in the lateral part, however, on customer request we can build the door at the end of the body. Fold doors open 180 degrees and provides easy access to the transported trays, or other cargo.
If you want to buy a van for manufactured goods increased control over safety of cargo - apart from the usual zaporke, we can mount the lock with the device for filling.
All of the above factors it is possible to manufacture a manufactured goods vans, the prices of which meet the stated requirements of the customer. In other words you only pay for what you need.
Car bread van with insulated body is especially indispensable in the cold season, when the temperature of the transported food products depend on their quality and shelf life.